New $115m wind farm confirmed for Kaiwera Downs
Mercury has today confirmed it will start construction of a $115m wind farm at Kaiwera Downs, near Gore. Here is the company's press release.
A new wind farm to be built by Mercury at Kaiwera Downs, south of Gore, is the latest example of the electricity sector's commitment to building new renewable generation, helping to move the dial towards a decarbonised New Zealand, the company says.
Mercury has executed contracts for the procurement and construction of the first stage of the Kaiwera Downs wind farm
The 43MW wind farm will cost $115m (excluding capitalised interest) and lifts Mercury's total commitment to new renewable wind generation to almost $600 million since 2019
This wind farm is part of a significant renewable growth pipeline for Mercury, with several other renewable projects under investigation
Mercury is committed to supporting New Zealand's decarbonisation goals and one of the most meaningful ways we can do this is through building and supplying more renewable power. Stage 1 of the Kaiwera Downs Wind Farm is the next cab off the rank in our pipeline of new renewable generation," says Vince Hawksworth, Chief Executive.
"This $115m project to build Stage I at Kaiwera Downs comes as we near completion of our $480m Turitea Wind Farm in the Manawatū. This means almost $600m committed by Mercury to new renewables since 2019.
"We have an outstanding pipeline of renewable generation projects. Our decision to proceed with Kaiwera Downs is an exciting next step, and by no means the last," says Mr Hawksworth.
The 10 turbines to be constructed as Stage I of the Kaiwera Downs Wind Farm will add enough new renewable power to run 66,000 EVs. A second tranche of the build will complete the 240MW that has been consented on the site as the transition to a lower carbon economy progresses.
"While there is continued uncertainty around the future of NZAS, New Zealand needs more renewable generation to be built," Mr Hawksworth explains.
"We've staged the construction of this wind farm so that the initial 10 turbines are constructed now, with the ability to swiftly follow with the rest, and we continue to assess commercial conditions and prepare to proceed with other projects in our pipeline."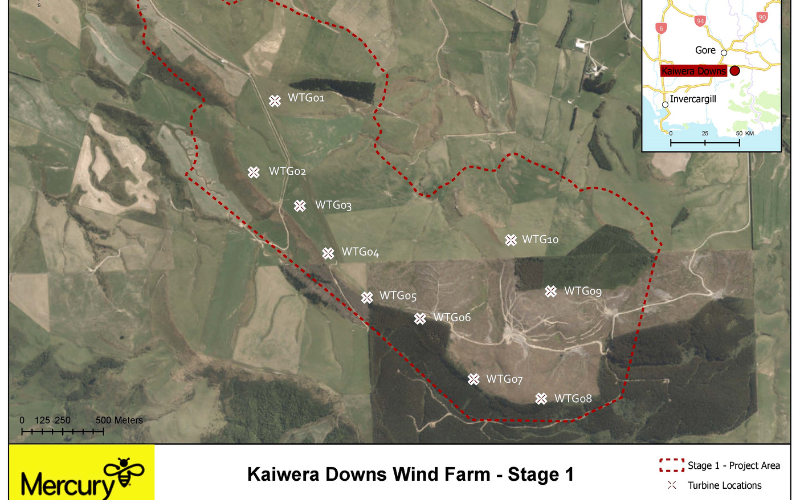 The electricity sector's investment in new renewable generation has a key role in enabling New Zealand's transition to a low carbon future, with the country on track for over 90% renewable electricity in the next 3-5 years.
"The Government's Emissions Reduction Plan sent a clear signal that collective effort across the electricity sector is needed towards the goal of decarbonising the economy," says Mr Hawksworth.
"From electrification of New Zealand's transport fleet to greater electrification of industrial processes, a reliable, low carbon, and affordable electricity system underpins many of our country's pathways to address climate change," says Mr Hawksworth.
"In less than twelve months, from having no operating wind generation Mercury has become New Zealand's largest wind generator," says Mr Hawksworth. "We are embarking on a major period of growth in a rapidly changing world that is increasingly recognising the urgency to decarbonise."
The Detail
The Kaiwera Downs Wind Farm project is fully consented, and construction crews are expected to mobilise to site in October. The full construction programme is expected to take around a year.
Kaiwera Downs Wind Farm Stage I will have capacity of 43MW (generating an average of 148 GWh each year). That's enough to power over 20,000 homes or 66,000 electric vehicles.
Vestas will supply 10 x 4.3MW V136 turbines (136m rotor, 77m tower, 145m tip height) and maintain the wind farm under a 30 year agreement. Higgins will undertake the civil balance of plant works with ElectroNet providing the electrical balance of plant works. PowerNet will construct a new 33kV line to the Gore substation.
Last year Mercury's wind generation produced 1,269GWh, and this will increase as Turitea South comes onstream, with Kaiwera following in late 2023.
Turitea Wind Farm is scheduled for completion mid 2023, and will be New Zealand's largest wind farm with enough generation to power approximately 375,000 EVs or 120,000 households.
Mercury supplies enough renewable generation to power around 18% of New Zealand's current electricity needs through renewable generation (wind, hydro and geothermal)
With more than 3.8 TWh of currently committed generation projects set to be built between 2020 and 2024, the electricity sector is demonstrating commitment consistent with Transpower and CCC forecasts for future demand (3.2 TWh and 3.8TWh of new renewable gen between 2020 and 2025 respectively).